How Covid-19 is further marginalising the vulnerable
Although the COVID-19 pandemic was initially described by many as a "great equaliser", the societal and individual impacts it has on vulnerable sections of the society are not equal. If anything, it has thrust our society's inequalities into sharp focus.
Senior Lecturer at the Department of Sociology in the University of Colombo Dr. Nishara Fernando in an interview with the Daily Mirror shared his insight about how the COVID-19 pandemic has showcased experiences of discrimination resulting in many of the vulnerable populations in the country.
He emphasised that while there is a high percentage of the Sri Lankan workforce that has the opportunity to work safely from home, that privilege is not accessible to all workers, further marginalising many of whom are already vulnerable to economic and structural inequalities and who have historically experienced marginalisation and discrimination in the workforce.
"Recognising COVID-19 as a great equaliser has a superficial truth. In fact, both rich and poor are asked to stay home and anyone may contract the virus. But, we cannot call the impacts of it as common because Sri Lanka had always been a country with underlying social and economic inequities that make some populations more vulnerable to the disease than others. Such vulnerable populations are typically those who have experienced a history of discrimination and marginalization," Dr. Fernando said.
He was of the view that even before the pandemic, lack of access to resources and opportunity, and lack of access to health care made those individuals and families more vulnerable. During a health crisis such as this, the situation becomes worse in many marginalised communities.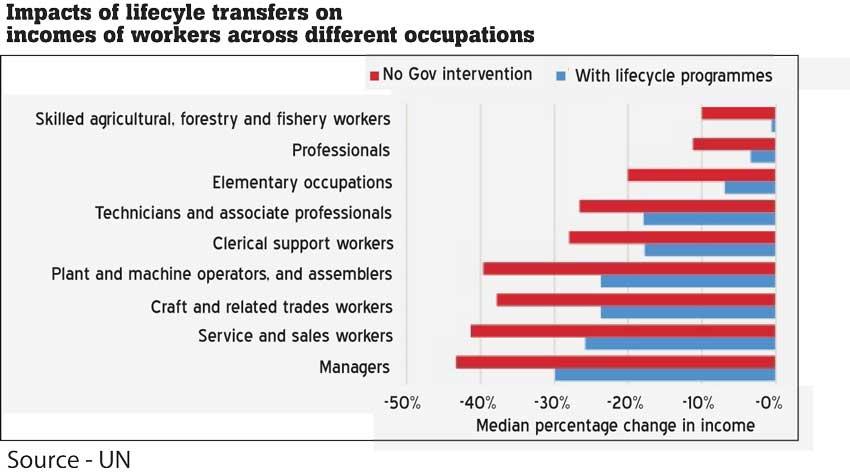 Internet facility a luxury
Despite the technological developments in the world, not everyone can afford smart phones or computers. Even those who have somehow managed to afford a smart phone, have their phone service or internet access repeatedly interrupted due to inability to pay bills. Therefore, the possibility for them to deal via the internet, email, or social media is often limited, said Dr. Fernando.
"Even among those who may have access to the internet and a smart phone or computer, due to educational marginalisation, many in our communities do not have the technological skills needed to navigate these online activities."
"Recognising COVID-19 as a great equaliser has a superficial truth.  In fact, both rich and poor are asked to stay home and anyone may  contract the virus. But, we cannot call the impacts of it as common  because Sri Lanka had always been a country with underlying social and  economic inequities that make some populations more vulnerable to the  disease than others"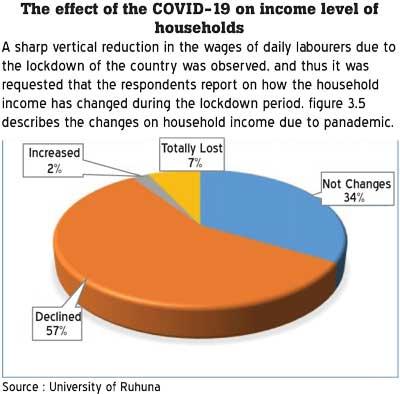 In the aftermath of the pandemic, schools have been attempting to replace in-person education with online learning. But, has it been effective in Sri Lanka? The dramatic shift to online learning has certainly risked widening educational inequalities. Why the term online learning is far from universal is that students who are poor do not have access to the key tools and experiences they need to attend school online.
According to a comprehensive survey of mobile use in Sri Lanka by LIRNEasia in 2018, only 40% of households in Sri Lanka with children aged 5-18 would have an internet connection. More than 90% of these connections are accessed through mobile networks using a Smartphone.
Dr. Fernando opined that all this means that students from the poorest families, without internet access, are more likely to be denied education and ultimately as education is strongly linked to later jobs, income and health, setbacks will most probably last a lifetime.
Home quarantine – not the best option for the poor
Over 11,900 families have been home quarantined in the Western Province, following the recent coronavirus outbreak. Police Spokesman DIG Ajith Rohana said that 5,715 families were home quarantined after being identified as first contacts of coronavirus patients.
Nearly 6,199 families have been home quarantined after being traced as second and third contacts of patients. DIG Ajith Rohana said that 14 Assistant Superintendents of Police (ASP) have been appointed to head a team each to closely supervise the residences of those who have been placed in home quarantine. The Police Spokesman added that action will be taken against those found to be violating the quarantine order under the quarantine law.
The home quarantine becomes further difficult for people who don't have basic facilities in the premise. Many poor households in Sri Lanka have just one room or don't have an exclusive living room and about five people share such accommodations. A considerable number of people living in Colombo also have shared bathrooms, with multiple doors between one's own room and the bathroom.
Recently there was a news about a Covid patient who had lived in a three-wheeler for three days awaiting a hospital ambulance. Sociology lecturer Dr. Fernando said that the room structures in the majority of households make it difficult for the people living there to follow the home quarantine guideline. The guideline adds that people in-home quarantine needs to stay away from elderly people, pregnant women and children within the household.
"Crowded living conditions make them highly vulnerable to COVID-19 transmission. Many marginalised communities are living in conditions where they are unable to follow COVID-19 public health and safety recommendations during this pandemic. Those who live in shanties are living in unclean facilities, not having access to cleaning supplies, and not being able to properly physically distance from their neighbours," he said.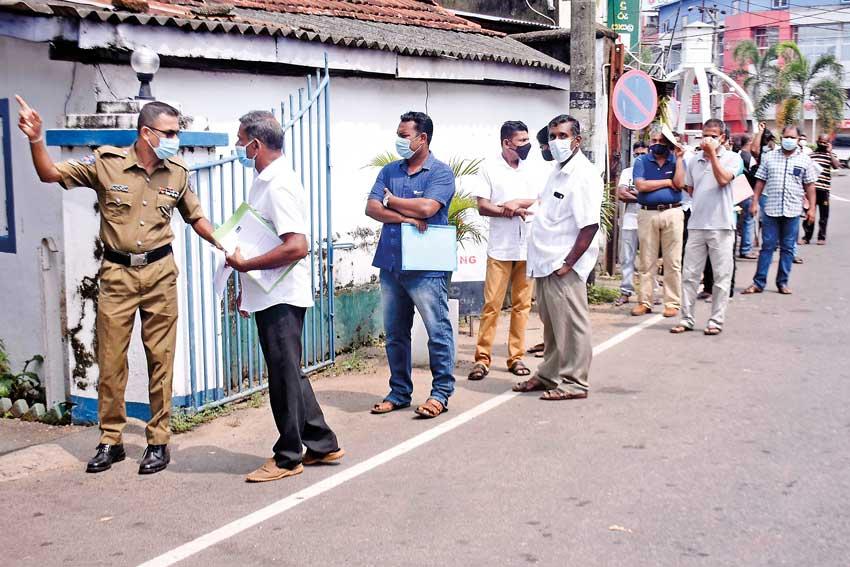 Traders queue to obtain curfew permits to conduct their business activities at a Police station in Colombo
Lack of updated data on the communities who really need help
As the government is taking action to create resources for vulnerable communities through relief programmes, the need for assistance to successfully connect people to these resources has become apparent.
But, does the government have a credible database to know who really needs help during crises in order to implement programmes that actually work? Dr. Fernando stated that unfortunately like many developing countries in the world, Sri Lanka also does not have good data to enable the authorities to build a solid knowledge of how many people are poor, why they are poor, and what interventions could work for them.
He opined that despite the need to use evidence-based research to inform development decisions, it requires the rigorous collection of data as well as a coordinated system to disseminate it.
"Data, and especially data of good quality, are essential for the government and other non government institutions to accurately plan and implement relief programmes at a crucial time like this. Data is the first, crucial step to make sure no one is left behind. It will ensure that programmes are timely, well-targeted, and effective for the poor and most vulnerable."
Despite the government taking many steps, including offering support to citizens, there remain certain sections of society that have been inadvertently excluded. While these are times when everyone needs to take good care of themselves and interact with others with caution, this is also the time for society to be aware of the needs of the most vulnerable parties and to ensure we do not forget those in need of assistance.
When contacted by the Daily Mirror, well-known policy think tank Advocata Institute stated that with the second period of curfew and restrictions as low income households will be hit the hardest, once immediate health concerns are addressed, it is essential that the government shifts its focus away from stop-gap measures such as import controls, and address the root cause of these economic ills: consistent fiscal deficits, low growth, and unsustainable borrowing.
It further said that without hard reform now, it will be impossible to see a meaningful improvement in living standards or an ability to cushion the vulnerable from shocks like this pandemic.
http://www.dailymirror.lk/news-features/How-Covid-19-is-further-marginalising-the-vulnerable/131-199265
Image by- The Hindu
Visits: 441