Ecosia: Your chance to be a superhero
Have you ever heard of Ecosia? A search engine, almost similar and convenient as google and yahoo, but with a huge difference, they plant a tree somewhere in the world for every 56 searches we make on Ecosia.
Yes, you heard it right,  when we search for something on Ecosia, Ecosia allocates half a cent to plant trees across the globe. Like any other search engine, Ecosia generates revenue via the ad suggestions that come up with each search result. According to their calculations, it costs USD 0.28 to plant a tree and that's 56 searches for a tree !!
German-based Ecosia was founded by Christian Kroll following his tour around the world in 2009. During his tour, he realized the importance of reforestation in a dying Earth and he came up with a brilliant idea to globally bring everyone together for a just cause.
"The work of NGOs is important and there are many traditional businesses that donate to charity on a regular basis. But to tackle one of the most pressing issues of our time, we need to scale up and harness the power of a global community." Kroll added.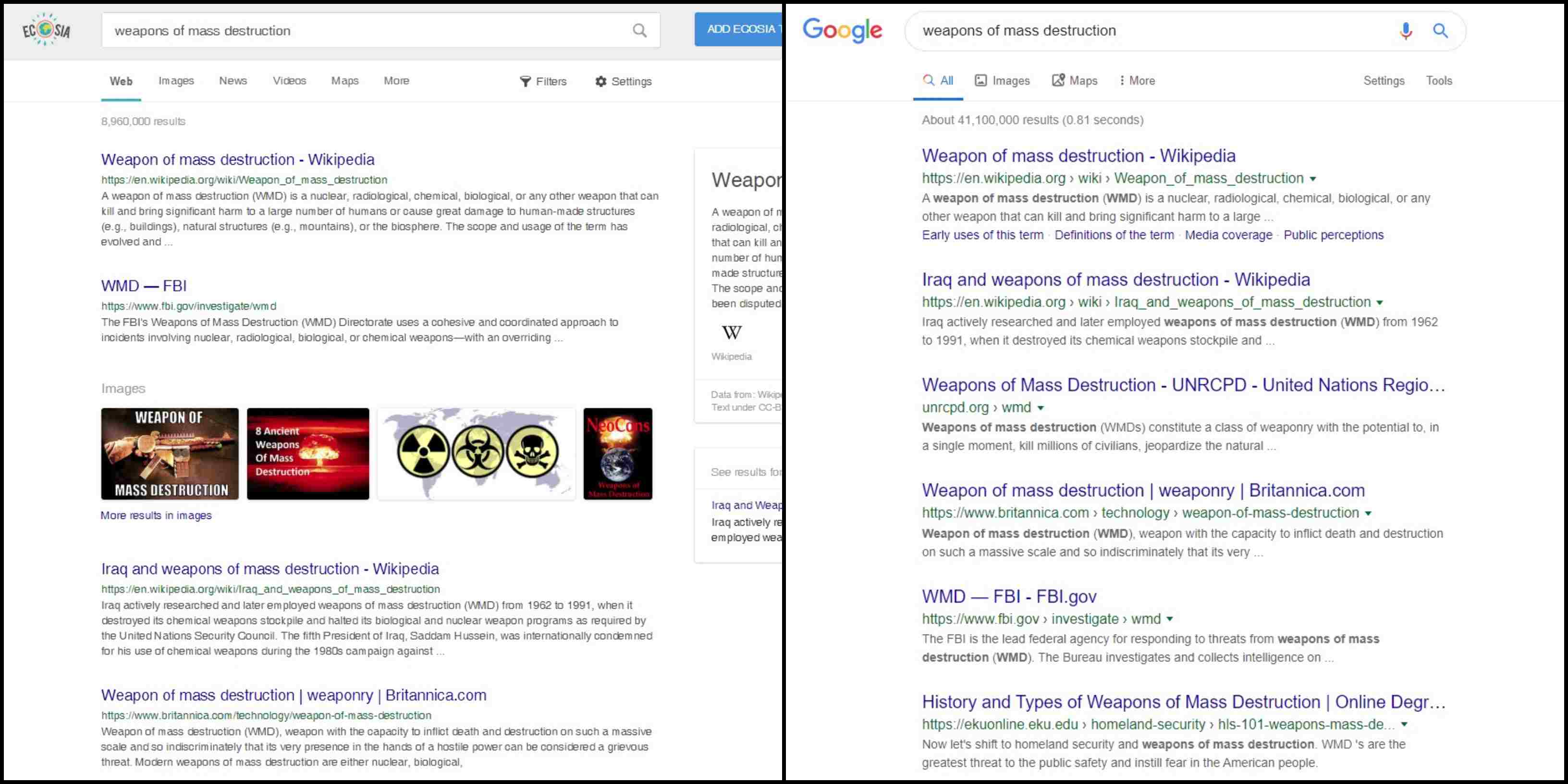 During the period of 2009-2011, the company won several awards for its clever concept and the impact on lives on a universal scale. In 2014, Ecosia was recognized as the first German company to reach B Corporation status.
CEO of Ecosia, Christian Kroll states "Deforestation causes many of the global issues society and the environment are suffering from. Poverty, famines, political and economic instabilities, droughts, pollution and mass extinction are just a few of them."
Ecosia spokesperson Jacey Bingler states that it not merely growing trees around the world and their intention is to paint a bigger picture. "It's about reviving drought-ravaged landscapes, nurturing, educating and empowering people, slowing the spread of disease and even reducing the likelihood of extremism and violent conflict" she added.
Ecosia is primarily powered by Bing and is enhanced with Ecosia's own algorithms and technologies in their searches. For your information, I did my own comparison between Ecosia and Google search results.
Apparently both of them come up with identical search results. All the more reason to use as your go-to day search engine.
Statistically, Google alone processes more than 40,000 search queries every second which is about 3.5 billion searches per day. Do the math, if we do all these searches on Ecosia its 62,500,000 trees per day !!
Ecosia has been true to their word and they have planted millions of trees in the world's most environmentally threatened areas such as Burkina Faso, Tanzania, Madagascar, and other regions.
In addition, they believe in total transparency with the users regarding what they do. That's why their site contains a tab called Financial Reports for any user to access and examine their finance management along with the tree planting receipts.
If you have a doubt about whether Ecosia is true to their word, you can always access their Financial Reports.
Ecosia's goal is to sprout 1 billion trees by 2020. and they are already at 6.7mn and we have four more months to help them get there.
Believe me as a Google user myself, I know how hard it is to adapt to a new search engine, but with the righteous cause of saving our planet and Amazon burning up, it is worth going the extra mile, isn't it?
In case you are wondering, Ecosia is both available on PC and Mobile via an app store.

Visits: 76